Warm Greetings from Chairman Subhakar Rao Surapaneni!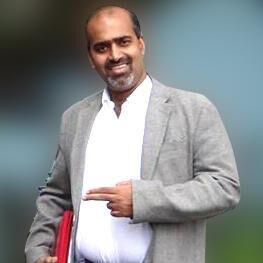 Subhakar Rao
Chairman,
Champion Infratech Pvt. Ltd.
Subhakar Rao Surapaneni, the Founder of Champion Prefabs strongly believes that the greatest threat to our planet is the belief that someone else will save it and no one wants to get hands on the same. These were the potent words penned to perfection by author Robert Swan that resonated him and propelled to begin his endeavour of Champion Prefabs. Subhakar Rao Surapaneni initiated this with a mission to make sustainable living and its relative renovation the status quo. There's no reason not to and every reason to make it the new norm. The company offers prefabricated solutions for commercial structures as well as private dwellings across India, the Middle East, Australia, USA, and more.
Subhakar Rao Surapaneni, a serial entrepreneur himself has keenly observed the pulse of people where they have this opinion that Prefabricated homes are only for industrial sheds and security guard boxes as they are easily moved from one location to another but as Prefab homes is rapidly trending the new technologies and materials enable us to have a beautiful prefab home in a tenth of the normal time.
The market for Eco-friendly homes, materials and design concepts is exploding, but the innovations often go relatively unnoticed by the increasing population who would be interested in using the same unconventional methods of housing. That ends here. Champion Prefabs intend on making this your one-stop shop for exploring possibilities and finding everything you need.
It's the time for people to leave behind their false belief that the green lifestyle is attainable by only the privileged and affluent members of society. This is entirely untrue.
Subhakar Rao Surapaneni's the Founder's goal is to educate the client on how and why eco- friendly homes are a necessity rather than luxury. Champion Prefabs have had a huge success in addressing the real need to link homeowners with the best products and services to build healthier and more sustainable homes. To list a few amongst the company's success projects are housed at Hosur road and Chickballapur road and many more.
Mr. Subhakar Rao Surapaneni always believed that going green is a journey and a constant learning curve. When he started the journey to preserve the environment through this initiative that promotes sustainable living, there were such far-fetched apprehensions by friends and folks. His companions themselves were baffled of why the Champions Group really had to invest in such kind of risky projects. But Mr. Subhakar Rao Surapaneni, later endured with experience and his verve to achieve the goal, in-order to translate, to demystify and delight by bringing resources together to create a beautifully, functional housing discovery experience.
Mr. Subhakar Rao Surapaneni's purpose is to create a new generation of self-powered, healthy homes that inspires society's transition to a clean energy future. We at Champion Prefabs have redesigned the home from the ground up. Our approach results in ultra-efficient living environments that ensure the health and wellness of our occupants as well as their safety.
Though he believes that the prefab construction has likely gained the traction in most parts of the world, Champion Prefabs have already felt the impact on the demand by the people. Nevertheless, Subhakar Rao summarised that as humans we should not sit idle watching the planet Earth being ravaged by the faulty effects caused by the industrialization, urbanization, and globalization. He later articulated that it is 'each one's responsibility to strike a balance and co-create a world where industrialisation and globalisation are not mutually exclusive of sustainability'. The idea is – we just can't consume our way to a more sustainable world.
Subhakar Rao Surapaneni specializes with an emphasis on working that focuses on environmental sustainability. A founder who instills his people to grow good attitude towards the planet helping the do-gooders do good. His ideal standpoint is to help and leave the world to be a better place than we first found it.
Mr. Subhakar Rao believes that the businesses just don't succeed on pure sentiments and impulses, but they do thrive on deeply set passion and convictions. Therefore, the sincere effort towards Champion Prefabs comes from the immense drive and desire to make this world more liveable by altering the way we construct our residential and commercial structures.
The founder and his team at Champion Prefabs collectively embark on by taking small and big footsteps towards protecting the environment and ensures to have a great imprint in ceding great service to the mankind. And no other time in the history of the world has urged the present time to create a state of harmony between mankind and nature.
Eco-friendly products and technologies are entering the market and they are more accessible and affordable than ever before. So, whether you're building from scratch or making some minor renovations, we at Champion Prefabs is here to help you! Browse for our perfect services like Container homes, Wooden Homes, LGSF, Prefab Toilets, etc. Also, Get inspired from the projects we have delivered to our clientele and learn how and why sustainable solutions are best for your home.
Whatever you're searching for, don't while away the time wondering why to choose us? Just visit Champion Prefabs website. We can almost guarantee you'll find something you never knew existed for your dream eco-friendly home!