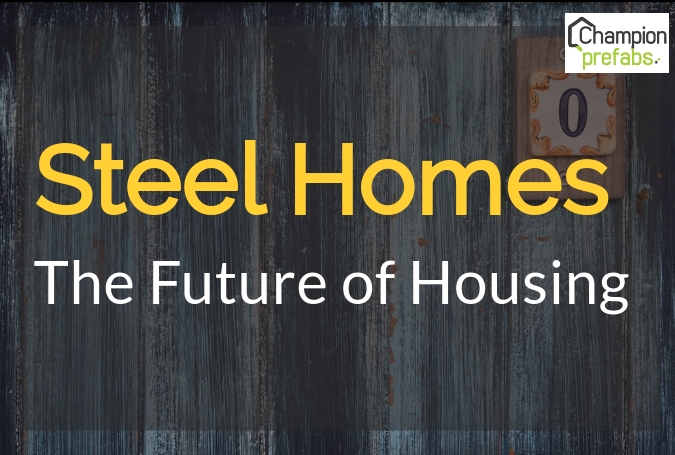 Steel homes- The future of housing
As you know, concrete and brick homes, which we've lived in all our lives have always been a threat to our planet. Sustainable development is something we've all been working in a variety of ways. Which is why it's been predicted that steel homes are the kind of houses we must be opting for. There are a million reasons behind it. Today, we'll talk about the few of the many reasons.
Say hello to affordable eco- friendly homes- steel houses due to the following reasons:
Steel ensures spaces are used at its best
The beauty of steel is that it can thin down and thicken up, as per your requirements. It does not matter how big or small your property is- steel homes can be set-up anyway! Its spanning capacity has changed the way several architects were inspired to take up architecture, too.
In countries like India, Africa, etc., steel homes are a must because there's not much space available or funds too. These prefab structures are built at minimal rates and can be built for high population countries as well.
Steel can be recycled- over and over again
Be it the close-looped recycling system or, the very idea of picking up scrap and making a steel home, steel is a versatile material which can be remolded into anything you want it to be. Read more about the inherent properties steel has like about its magnetic property, making it so very much convenient for segregation of this material at any point of time.
Steel is 100% energy efficient over the rest
Steel can reduce the need of air conditioners, heaters and other devices we make use of on a daily basis in order to control temperature. Steel houses are breathable and look so lovely! With this small a change, all of us can reduce the overall emissions we make, contributing towards a sustainable living.
All you need as insulating techniques which your steel home manufacturers shall help you out with.
Steel is earthquake resistant
As you've seen in the past with houses in Nepal, Odisha, Africa, Australia and so on, concrete houses have been shattered with just a 6.0 magnitude during earthquakes. So, it's been suggested by multiple researchers to set-up steel homes, steel-framed homes and other varieties in order to ensure there are no lives taken away or, someone's life savings too in such ways!
It's hard to switch to a sustainable option. That's fine- with a minimal budget, several prefab home builders can set-up the best of container homes, steel homes etc. which must be LEED certified at least. You need to switch to a more eco- friendly option, it's a must.
Live sustainable, inspire the rest.